Dr. Eggman and Katella is a Canon couple added by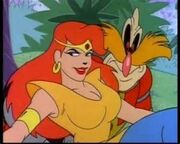 Jassiecat600.
In the TV show
Edit
When Katella visits Eggman's fortress she instantly falls in love with him. She states that Eggman is the most evil man she's ever met. She wanted to prove her love to him so Eggman tells her she can capture Sonic to prove her love to him. After she captures Sonic, she forces Eggman into marrying her. Sonic calls Eggman's mother over which Katella and Eggmans mother get into a fight. Katella tells Them the Marriage is off only because she does not want Eggman s mother as her mother in law.
Things in Common
Edit
Both have orangish hair (facial hair in Eggman's case)
Both are Evil
Ad blocker interference detected!
Wikia is a free-to-use site that makes money from advertising. We have a modified experience for viewers using ad blockers

Wikia is not accessible if you've made further modifications. Remove the custom ad blocker rule(s) and the page will load as expected.